MARSALA PANTONE 18-1438
Marsala enriches our mind, body and soul, exuding confidence and stability. Marsala is a subtly seductive shade, one that draws us in to its embracing warmth. 
Leatrice Eiseman
Executive Director, Pantone Color Institute®
Why PANTONE Marsala is the Color of 2015
Enjoy a chat with Leatrice Eiseman, Executive Director, Pantone Color Institute and David Shah, Editorial Director PANTONEVIEW.com as they discuss Marsala, the PANTONE Color of the Year 2015 and how this rich and enriching shade can be applied throughout all areas of design.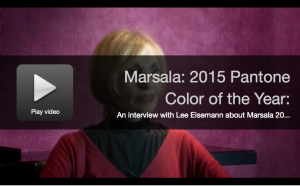 Much like the fortified wine that gives Marsala its name, this tasteful hue embodies the satisfying richness of a fulfilling meal while its grounding red-brown roots emanate a sophisticated, natural earthiness. This hearty, yet stylish tone is universally appealing and translates easily to fashion, beauty, industrial design, home furnishings and interiors.
The Versatility of Marsala
Equally appealing to men and women, Marsala is a stirring and flavorful shade for apparel and accessories, one that encourages color creativity and experimentation
Flattering against many skin tones, sultry and subtle Marsala is a great go-to color for beauty, providing enormous highlight for the cheek, and a captivating pop of color for nails, shadows lips and hair.
Dramatic and at the same time grounding, the rich and full-bodied red-brown Marsala brings color warmth into home interiors
An earthy shade with a bit of sophistication, texture is the story in print and packaging. A matte finish highlights Marsala's organic nature while adding a sheen conveys a completely different message of glamour and luxury.
This article came from www.Pantone.com