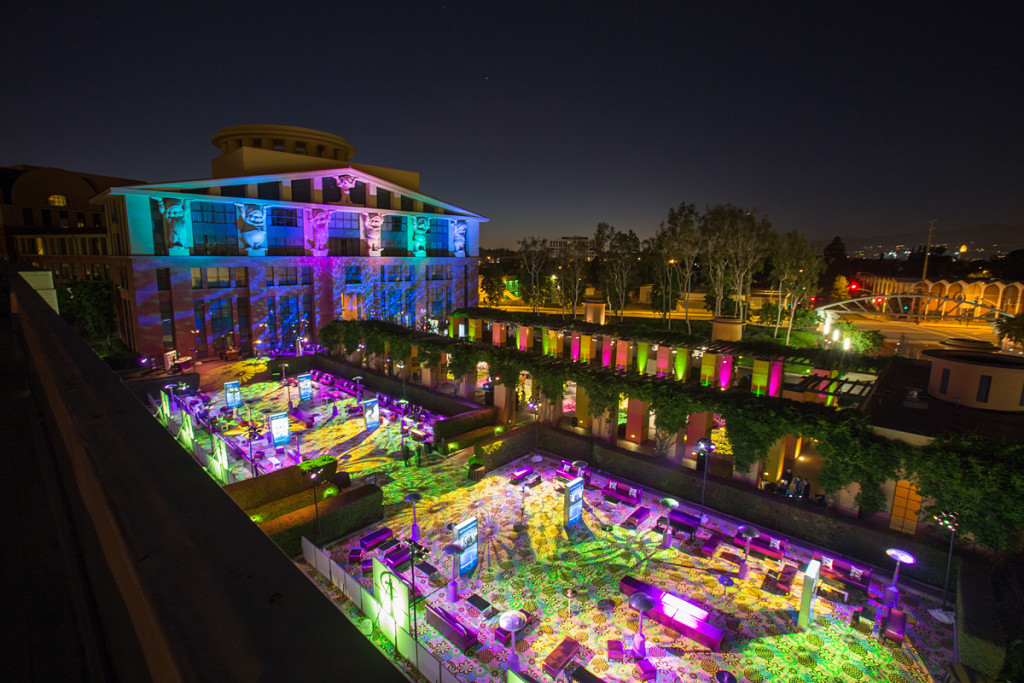 Featured Designers, November 2014: Russell Harris and Eddie Zaratsian
Russell Harris and Eddie Zaratsian are both best friends and design collaborators, but they're also genuine, down-to-Earth, funny guys. I sat down with with them while they set up their Winter Cabin vignette in 204 Event's Showroom. We had a good time together, mostly talking smack, but we all know a little trash talk makes the production day go by that much quicker. The champagne didn't hurt either.
What's your working relationship like?
Russell: We're best friends, but also great collaborators. We both have our own respective companies, mine specializes in Event Design and his is a Floral Design company. We share ideas and he ALWAYS delivers and has never EVER let me down. It's like he can read my mind.
Eddie: It's filled with so much respect for each other. I can always call him my friend. In the future, our goal is to expand together. Russell will handle client interaction and production and I will focus on the creative side of the event, mainly design and aesthetics.
How did a Texas boy like you move to LA and get involved in Event Design & Production?
Russell: It was a total fluke!  I started my career as an assistant to the famous Hollywood Columnist George Christy at the Hollywood Reporter.  I was making all his arrangements plus RSVPing to all the Hollywood parties he was invited to. I would get calls from all the top caterers, restaurants, and hotels through out the country. This is where I was introduced to the events industry.
Eddie: I'm not from Texas! I'm from Armenia.
What's the most satisfying part of the design process? 
Russell: To see the expression on the client and guests' faces when they walk into the event. That's the pay off.
Eddie: When they're speechless (of course in a good way). That, to me, is priceless.
Tell me about one of the most rewarding projects you've worked on to date.
Russell: My biggest client is Disney International TV. I have been producing their International Upfronts for the past ten years. The trust, loyalty, and respect I get from this client is unparalleled. Every year she gives me total control of the look, design, and feel of the event. Ultimately, this puts the  pressure on me to exceed her expectations based on what I did the previous year. For 10 years running, I've been blessed with the reward of appreciation and unconditional love at the end of the event.
Eddie: The collaboration between Restoration Hardware and I was in line with where and how I wanted to brand my name in the design world. I was able to launch Eddie Zaratsian lifestyle.
I am also very proud of my coffee table book, Eddie Zaratsian: Custom Florals and Lifestyle.
What's a dream project you'd like to work on?
Russell: I want to do an International Incentive Event. A dream event would be a ride-and-drive for LandRover, somewhere in the mountains of France, or an elegant dinner in an Ireland Castle for one of our financial clients.
Eddie: I have so many on my bucket list, it will take over this whole interview.
What is your inspiration behind this setup?
Russell: For the Holidays we don't like to make it a typical Christmas setting.  Today's events are all about the experience.
Eddie: So why not pick a place where you would like to spend the Holidays? Like Aspen, Colorado.  This way we can make it warm, homey, and all about family.
Why a winter cabin?
Russell:  Eddie and I came up with the idea from journeys that we've taken around the world. Aspen is an elite destination that everyone can identity with and has a desire to visit. You can never disappoint a client/guest with a memorable evening in a beautiful mountain environment.
Tell me how you REALLY feel about the holidays.
Eddie: Coming from Armenia, all holidays (Thanksgiving, Christmas, New Year's and Easter) were spent with family and that's what the Holidays mean to me.
204 Events believe in "Smothering our customers in Southern Hospitality". What does that mean to you during the Holidays?
Russell: Being a "southern" boy from Texas, I'm all about the Hospitality. As my Grandma used to say "you catch more bees with honey than vinegar"… Those are my words to live by.
Eddie: I am filled with gratitude everyday, but Thanksgiving is a time where I can literally rest, not work, and give thanks for all that I am grateful for.
And finally, when do you think it's tasteful to start putting up holiday decorations?
Russell: Being a traditional Southern Boy, Holiday decorations go up the weekend after Thanksgiving.  This timing where stores and products are put out right after Halloween is totally wrong!  You have to enjoy and live each Holiday separately…one at a time.
Eddie: I agree with Russell.
Stay tuned for December's Featured Designer Wayne Gurnick.